Let's Work Together 
At Algoma, people are the backbone of our operations. We have teams of dedicated and highly skilled professionals and we are always looking for talented individuals to "come aboard" and join the Algoma family. 
1-833-4-ALGOMA
Perks & Benefits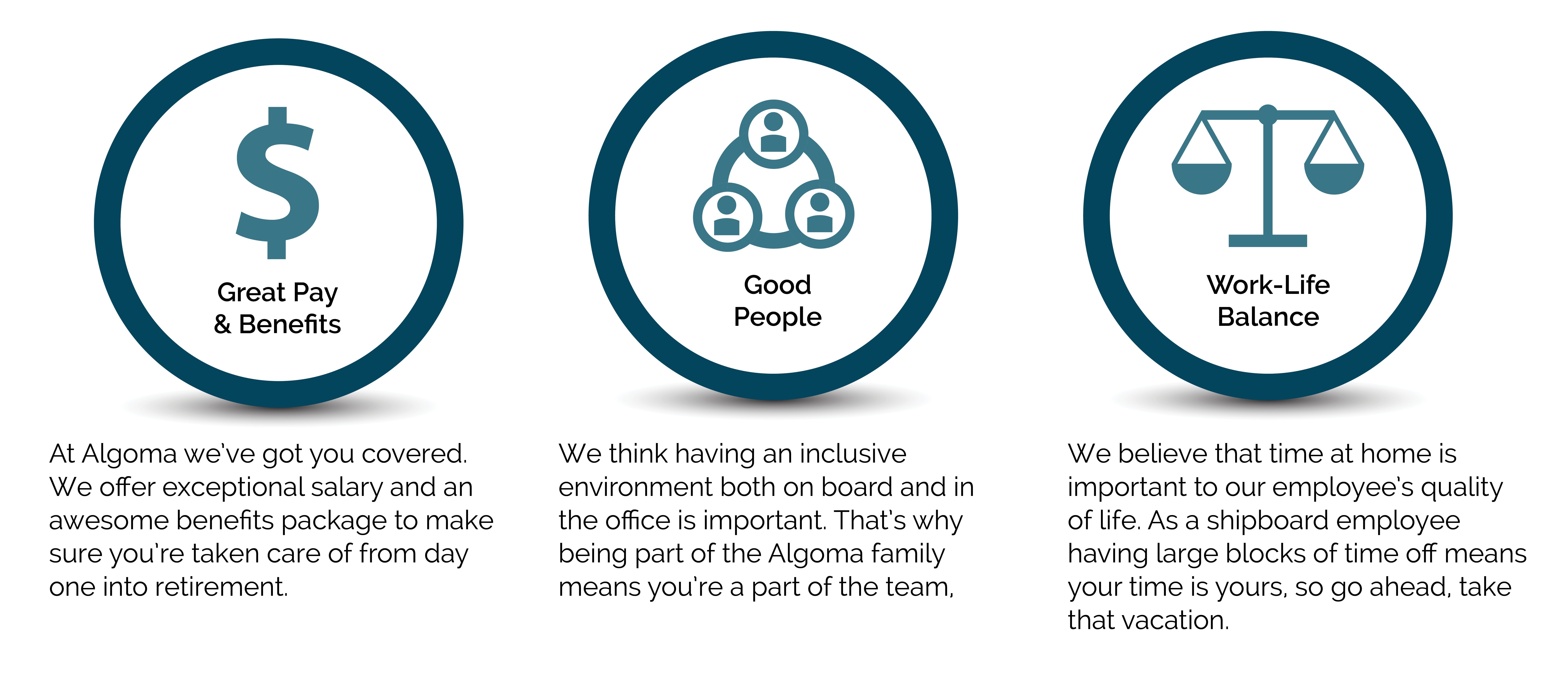 Shipboard Positions


Have a passion for life on the water? Then come and work for shipping company that not only encourages that passion but wants to train and develop it. When you sail with us, it's not just a job; it's a career of a lifetime! 
Shoreside Positions
Algoma's shoreside office provides support to our crews, customers and fleet. We offer positions in areas such as business, finance, human resources and sales & marketing; all with room for growth and development. 
---
Algoma is an equal opportunity employer and we are committed to creating an inclusive environment for all employees. We are dedicated to building a team that represents a variety of backgrounds, perspectives and skills. All employment is decided on the basis of business need, qualifications and merit. 
Algoma encourages applications from designated group members identified under the Federal Employment Act. 
Please submit your resume to
careers@algonet.com
and make sure to follow us on
LinkedIn
to keep up to date with career postings.
To speak with a member of our fleet personnel department about shipboard positions please click on the link above or dial 1-833-4-ALGOMA (254662)
Open Positions: 
| | | | |
| --- | --- | --- | --- |
| Operations | Deck Superintendent | St. Catharines (with extensive travel), Ontario | Jul 11, 2022 |
| Operations | Superintendent, Engineering | St. Catharines (with extensive travel), Ontario | Jul 11, 2022 |
| Commercial | Director, Vessel Traffic & Customer Service | St. Catharines, Ontario | Jun 24, 2022 |
| Shipboard - Licensed | First Mate | Deck Department, Dry Bulk Vessel | Jun 21, 2021 |
| Shipboard - Captain | Captain | Deck Department, Dry Bulk Vessel | Jun 14, 2021 |
| Shipboard - Chief | Chief Engineer | Engine Room, Dry Bulk Vessel | Jun 14, 2021 |
| Shipboard - Licensed | Second Engineer | Engine Room, Dry Bulk Vessel | Jun 14, 2021 |
| Shipboard - Licensed | Second Engineer | Engine Room, Tanker Vessel | Jun 14, 2021 |