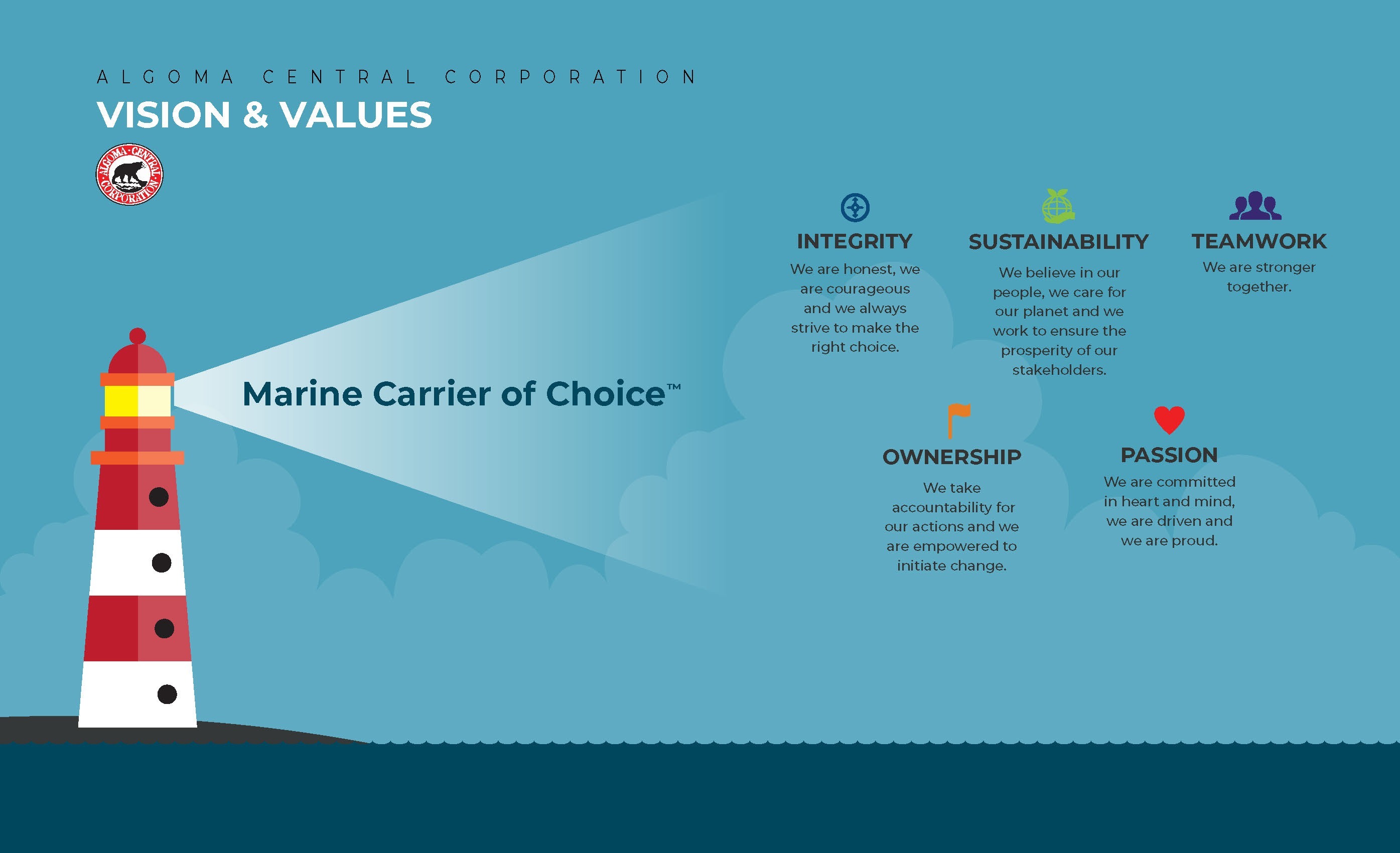 We are a leading Canadian marine shipping company with headquarters in St. Catharines, Ontario. We own and operate the largest fleet of self-unloading and gearless dry-bulk carriers and product tanker vessels operating in the Great Lakes – St. Lawrence Seaway.
We also own and operate, through international subsidiaries, self-unloading ocean-going vessels operating in international markets and have a 50% interest in NovaAlgoma, a diversified fleet of dry-bulk, cement carrier and short-sea vessels serving customers around the world.
Our vessels carry bulk cargoes of raw materials such as iron ore, grain, salt, cement, gypsum, aggregates and petroleum products and we do this safely, reliably and efficiently. Marine transportation is recognized globally as the most environmentally efficient way of moving cargo.
To learn more about our fleet
click here
.
---
Marine Carrier of Choice 
Our vision statement verbalizes something that has always been a goal for Algoma. It emphasizes a fact we know well – all stakeholders have choices and we want Algoma to be at the top of their list. This vision statement drives our actions in all areas of the business:
For customers, we want to be their go-to provider of marine freight services. We will do this by providing unsurpassed service and flexibility at a fair price. When our customers succeed, we succeed.
For employees, we are proud they have chosen to work at Algoma and want them to stay with us until retirement. For potential employees, we want them to consider a job in marine transportation and with Algoma in particular, for an attractive and rewarding career.
For investors and other capital providers, Algoma should be their first choice when they are thinking of investing their funds in the marine sector.
For vendors and our business partners, we want them to value the relationship they have with Algoma because working together builds strength.
For society as a whole, choosing marine transportation is a must because it has the lowest environmental footprint and, in many cases, is the only effective method for moving large volumes of materials.
Our values describe how we do the things we must do to be the marine carrier of choice. Put simply, our values are:
Teamwork  
We are stronger together.

Passion 
We are committed in heart and mind; we are driven and we are proud.

Integrity 
We are honest, we are courageous, and we always strive to make the right choice.

Ownership
We take accountability for our actions and we are empowered to initiate change.

Sustainability
We believe in our people, we care for our planet, and we work to ensure the prosperity of our stakeholders.