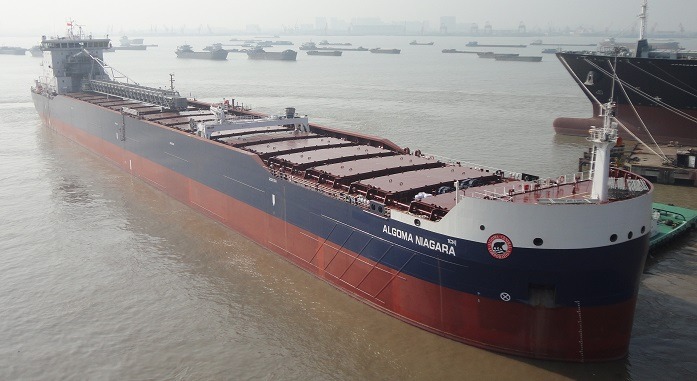 FOR IMMEDIATE RELEASE
(TSX:ALC)
ST. CATHARINES, ONTARIO (September 12, 2017) — Algoma Central Corporation ("Algoma" – www.algonet.com) is pleased to announce that it has taken delivery of the first of two new Equinox class self-unloading lake bulk carriers from Yangzijiang Shipyard in China and the ship, named the Algoma Niagara, departed today on its two month voyage to Canada via the Panama Canal. The Algoma Niagara is expected to arrive in Canada and enter service in early November, making the ship available for the peak fall season on the Great Lakes.
"We are looking forward to the arrival of the Algoma Niagara," said Ken Bloch Soerensen, Algoma President and CEO. "The Algoma Niagara is the first of two new Equinox Class 740-foot self-unloaders being built at Yangzijiang Shipyard and she will be joined by her sister ship, the Algoma Sault, in the first half of 2018."
The Algoma Niagara will be the fifth Equinox Class vessel to join the Algoma Great Lakes fleet. Four Equinox Class gearless bulkers are already in operation in the Algoma fleet servicing the Company's grain and iron ore customers.
Algoma has developed a strong partnership with Yangzijiang Shipyard over the past two years. In addition to the new 740-foot self unloaders being built at Yangzijiang, the Shipyard also completed the fit-out of the Algoma Strongfield after the ship was acquired from the bankrupt Nantong Mingde shipyard early in 2017.
Working in partnership, Algoma and Yangzijiang recently acquired the partially completed self-unloader Algoma Conveyor from the same bankrupt shipyard. The Shipyard is completing a refurbishment of the vessel for eventual delivery to Algoma, expected in early 2019.
The Equinox Class represents the next generation of Great Lakes – St. Lawrence Waterway bulk cargo vessels. The ships have been designed to optimize fuel efficiency and operating performance thus minimizing environmental impact. A 45% improvement in energy efficiency has been achieved compared to older vessels. In addition, Algoma's Equinox fleet is the first Class of Great Lakes vessels to include a fully integrated IMO-approved exhaust gas scrubber that has been certified to remove 97% of all sulphur oxides from shipboard emissions.
About Algoma Central Corporation
Algoma Central Corporation operates the largest fleet of dry and liquid bulk carriers on the Great Lakes – St. Lawrence Waterway, including self-unloading dry-bulk carriers, gearless dry bulk carriers and product tankers. Algoma also owns ocean self-unloading dry-bulk vessels operating in international markets. Algoma also provides ship management services for other ship owners. Algoma has begun an expansion into international short-sea markets through it 50% interests in NovaAlgoma Cement Carriers and NovaAlgoma Short-Sea Carriers.
For further information please contact:
Ken Bloch Soerensen
President and Chief Executive Officer
+1 905-687-7885


Gregg Ruhl
Chief Operating Officer
+1 905-687-7890