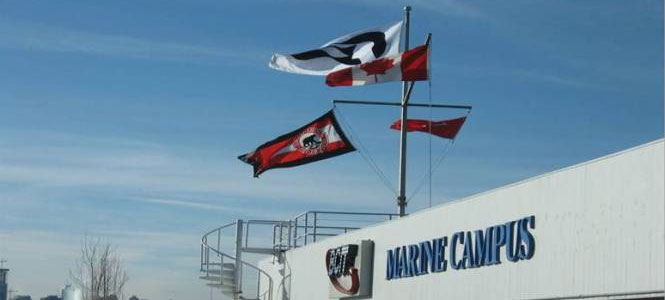 Marine transportation employers worldwide have identified serious labour market shortages that are projected to become even larger. Algoma offers attractive salaries and benefits to personnel with the skills to work on ships as well as onshore in support roles.
The marine industry offers a unique work environment where individuals can discover new places, new people and new experiences while being rewarded with a competitive salary and benefits as well as high potential for growth.
Officer Positions
Shipboard opportunities that require certification as an Officer include the following:
There are two main streams for Officer training:
Take the traditional route of starting as an unlicensed crew member and gaining marine experience to be able to move forward in writing the Transport Canada challenge exams in order to obtain the next level of certification.
Attend one of the major post-secondary institutions, listed below, that offer cadet programs and combine academics with co-op sea time placements to sit the Transport Canada examinations for certifications as a Watchkeeping Mate or a Fourth Class Engineer.
Unlicensed Positions
In addition to the officer positions there are a number of other rewarding shipboard unlicensed positions including:
Able-bodied Seafarer
Ordinary Seafarer
General Purpose Watchkeeper
Mechanical Assistant
Cargo Maintenance
Chief Cook
In order to be considered for employment in an unlicensed position, you must contact either the Seafarers' International Union (SIU) or UNIFOR directly. They can be reached by the telephone numbers below.
In order to be considered for employment in all sea-going positions, applicants must be able to work in Canada and hold certificates issued by Transport Canada. In addition, all applicants must be able to travel to the United States holding either a Canadian Passport or United States of America Multi-entry Seafarers Visa.
For further information on regulatory requirements for shipboard positions please contact your local Transport Canada Marine Safety Office or the Union offices listed above.