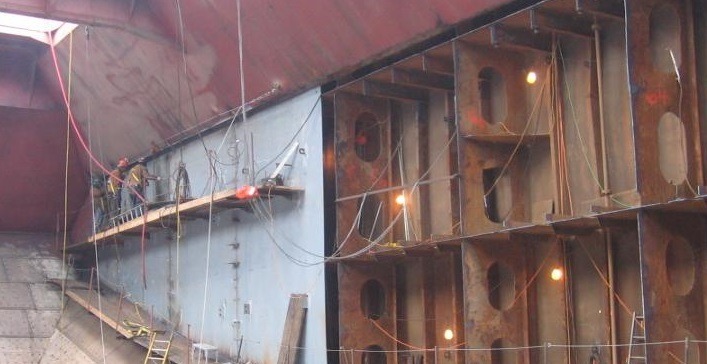 Algoma Ship Repair ("ASR") provides diversified ship repair services to the Corporation's vessels and other fleets on the Great Lakes – St. Lawrence Seaway system. Based in Port Colborne, ASR specializes in major vessel refits, planned maintenance, and emergency ship repair services and is the largest 'top-side' ship repair company on the Great Lakes. Our ship repair department is supported by steel fabrication, machine and electrical shops.
Algoma Ship Repair achieved ISO 9001-2000 certification, further highlighting our commitment quality customer service. Welding certifications are maintained to the Canadian Welding Bureau Standards W47.1 in Division 2 for steel and W47.2M in Division 3 for aluminum. Welding personnel are also certified under the Boiler and Pressure Vessel Code by the Technical Standards and Safety Authority (TSSA). The Algoma work experience of versatile operations includes complex, custom and precision grinding, cutting, welding, forming and blasting of all metals, including stainless steel and aluminum.
Marine Projects

Algoma provides the installation and maintenance of all power systems and controls including motors, generators, propulsion engine controls, conveyor and unloading systems, measurement control systems, monitoring alarm systems, megger test and repairs and computer cable installation.Algoma Ship Repair has demonstrated its ability to take on very large and complex projects and complete them within the short winter repair period. They have an enviable reputation of finishing these projects on time, on budget and to a high standard of quality. ASR undertakes a number of projects during the summer, ranging from tow preparation to deck inserts to installing cement boxes to full blown internal repairs.
"Anytime … Anywhere"
Algoma Ship Repair is strategically located in Port Colborne, Ontario, at the south (Lake Erie) entrance to the Welland Canal, adjacent to Lock 8. This location provides convenient access to vessels transiting the Welland Canal, the Great Lakes and St. Lawrence Seaway system. ASR provides marine repair services in Owen Sound, Sarnia, Hamilton, Toronto, Montreal and the Welland Canal area. Supervision and core skills are provided from Port Colborne and temporary skilled labour is hired for the work in specific ports. These are the ports that the Great Lakes vessels generally use for winter lay-up berths. Although these ports are the main winter repair centres, ASR can quickly mobilize a work force in any Great Lakes port.
The ASR motto of "Anytime … Anywhere" recognizes the round-the-clock, mobile nature of the marine industry. During the summer months, a core staff of supervisors and skilled workers are available for unscheduled and emergency repair work, which inevitably occurs on both domestic and foreign vessels within the Great Lakes. During these months, ASR continues to work with its customers and provides competitive rates for prefabrication of material that is anticipated for the coming winter. This allows utilization of shop facilities and labour during slower summer months, as well as efficient use of more limited resources in the winter.