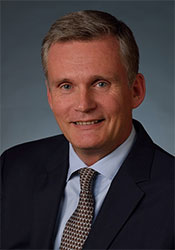 Ken Bloch Soerensen
President and Chief Executive Officer
Ken Bloch Soerensen is responsible for the overall strategic direction of Algoma Central Corporation. Ken joins Algoma following a successful 34-year career in the international maritime sector, including 18 years with A.P. Moller/Maersk where he held the position of General Manager in several of Maersk's global operating units. Following his years with Maersk, Mr. Soerensen served as CEO of Swiss Federal Railways Cargo and in later roles focused on container shipping in the Asian, North Atlantic and Middle Eastern markets. Mr. Soerensen was CEO of United Arab Shipping Co. from 2005 to 2009 and was most recently Managing Director and Partner in IPSA Capital Limited.
Mr. Soerensen served for two years as the Executive Director of the European Liner Affairs Association in Brussels, representing the industry on regulatory matters in the European Union. During his career, he has served on numerous boards of industry organizations, including the boards of two P&I Clubs.
Mr. Soerensen has a Bachelor degree in Business Language Studies from Copenhagen Business School and has attended executive development programs at the London Business School and at INSEAD.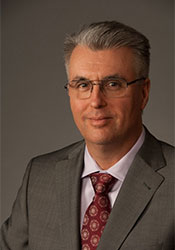 Peter D. Winkley, CPA, CA
Vice-President, Finance and Chief Financial Officer
Peter Winkley directs all financial aspects of Algoma's businesses, including financial reporting, accounting practices and internal controls, financial planning and analysis, and monitoring of financial performance. Mr. Winkley is also responsible for treasury and capital structure, investor relations, risk management and the Corporation's business information systems.
Mr. Winkley is the Chairman of the Canadian Shipowners Mutual Assurance Association, chair of the audit committee of The Standard Compensation Act Liability Association, and sits on the Member's Board of the North of England P&I Association.
Prior to joining Algoma in 2010, Mr. Winkley was CFO of Therapure Biopharma Inc., a Canadian biopharmaceutical contract manufacturer, and a senior financial executive with MDS Inc., a publicly listed Canadian life sciences company.
Mr. Winkley is a Chartered Professional Accountant, Chartered Accountant, and holds a Bachelor of Commerce from the University of Toronto
Dennis J. A. McPhee
Vice-President, Sales and Traffic
Dennis McPhee joined Algoma Central Corporation in 1986 as Supervisor Marketing and Sales. When Algoma and Upper Lakes Group formed the Seaway Marine Transport partnership in 1994, Dennis was promoted to Director Marketing.  In May 2008, he was named Vice- President Sales and Vessel Traffic for Seaway Marine Transport and when Algoma purchased Upper Lakes' interests in SMT in May 2010, Dennis was named Vice President Sales and Vessel Traffic for Algoma Central Corporation.
In his current role, Dennis is responsible for all Sales, Vessel Traffic Customer Service functions for the Company's domestic dry bulk and product tanker vessels.
Dennis has 35 years of Industrial Sales Experience and he has played a major role in developing much of the company's current customer and contract base.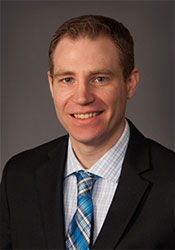 J. Wesley Newton
Secretary and General Counsel
Wes Newton performs corporate secretarial functions and provides legal support to each of the Corporation's business divisions. 
Prior to joining Algoma in 2011, Mr. Newton held a position as senior corporate counsel with the Canadian subsidiary of a large international express air shipping company and had practised litigation and commercial law in private practice.
Called to the Ontario Bar in 2004, Mr. Newton holds a BAH in History from Queens University and an LLB from the University of New Brunswick. 
Mr. Newton is a member of the Canadian Maritime Law Association.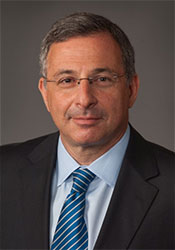 Thomas G. Siklos
President, Algoma Central Properties Inc.
Tom Siklos directs the operations of Algoma Central Properties Inc. (ACPI), a wholly owned Algoma subsidiary.  ACPI owns and operates over 1,000,000 square feet of commercial real estate properties including retail, office, industrial and hotel assets. ACPI operates in three Ontario cities, St Catharines, Waterloo and Sault Ste. Marie.
Mr. Siklos has worked in the commercial real estate field for over 30 years and has held executive positions in a number of national firms including Markborough Properties, Morguard REIT and Blackwood Partners.
Mr. Siklos has been active for many years in several real estate associations including ICSC, NAIOP, and BOMA, and has previously served as Director and BOMA Toronto president.
Mr. Siklos holds a Bachelor of Applied Science degree from the University of Toronto and a Masters of Business Administration from York University (Schulich).
Gregg Ruhl
Senior Vice-President, Engineering
Gregg Ruhl is responsible for the Operations and Technical teams at Algoma and the Algoma Ship Repair business unit. In his role as Senior Vice-President, Mr. Ruhl has operational responsibility for a fleet of nearly 40 owned and managed vessels in both Canadian and International trades including self-unloading dry-bulk carriers, gearless dry bulk carriers, product tankers and specialty cement carriers.
Prior to joining Algoma in 2015, Mr. Ruhl was the Managing Director for Canadian National Railway Company (CN) in Duluth, Minnesota with full P&L responsible for the marine division (Great Lakes Fleet, Cogema and Aquatrain). Between 2004 and 2009, Mr. Ruhl was the Director Sales & Marketing, Vessels and Docks, also for CN. Prior to 2004, Gregg held increasingly senior positions within the marine and rail industries.
Mr. Ruhl served as Chairman of the Lake Carriers Association  for 2012 to 2014.
Mr. Ruhl is a Mechanical Engineer with a Masters of Business Administration from the University of Pittsburgh.
Karen A. Watt, CHRL
Vice-President, Human Resources
Mrs. Watt has been Algoma's Vice-President, Human Resources since September 2007.  Prior to this role, Ms. Watt was Director, Human Resources of the Corporation from 2004.
As Vice-President, Human Resources, Karen is responsible for all people-based activity within the Corporation, both on an operational and strategic level and is specifically involved in resource planning and recruitment; training; policy development and implementation; labour relations and compensation and benefits issues.
Prior to joining Algoma Central Corporation, Mrs. Watt was employed by a Canadian specialty steel producer, where she began her career in the company's Engineering Department.  After several years, Mrs. Watt transitioned in to the Human Resources field, initially responsible for Health & Safety function and then being promoted to Labour Relations Officer and then ultimately to Corporate Director of Human Resources.
Mrs. Watt is the Chair of the Georgian College Marine Advisory Committee and the Chair of the Canadian Marine Compensation Association Health & Safety Committee.